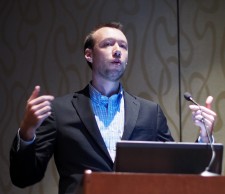 International futurist Simon J. Anderson has been selected to speak at the Nineteenth Annual Regional Education Conference in Plymouth, MN
Minneapolis, MN, October 7, 2016 (Newswire.com) - Thought-provoking keynote speaker, award-winning author, and energy and transportation futurist Simon J. Anderson, founder of Venture Foresight LLC, will be speaking on the opening day of the 2016 ISM-Twin Cities Nineteenth Annual Regional Education Conference held in Plymouth, MN.
Anderson's presentation, partially based on the new edition of his award-winning book "Foresight 20/20: A Futurist Explores the Trends Transforming Tomorrow [Updated & Expanded]" (co-authored with globally acclaimed futurist Jack Uldrich) will discuss trends and technologies that are transforming the future of supply chain management, including automation, incredible advancements in artificial intelligence, drones, and the internet of things. He will also speak about generational trends, unlearning, and provide specific actions that supply chain management professional can take to create a more future-resilient organizational culture.
The world is being transformed by exponential advancements in technology and every one of our lives and careers will be touched by these advancements. My role as a futurist is to be a catalyst for discussion, and to help leaders recognize opportunities before they become challenges.

Simon J. Anderson, Futurist
In the past year, Anderson has addressed businesses and other organizations around the country including the TMW Transforum in Orlando, the Maryland Association of Counties in Ocean City, MD, and the American Heart Association in Dallas. His work has also been featured in a variety of publications including the World Future Society's site, http://www.wfs.org/, and the Austrian management magazine, the Hernsteiner.
Parties interested in learning more about Futurist Simon J. Anderson, his book "Foresight 20/20" (ISBN: 978-1592988945), his blog or his speaking availability are encouraged to visit his website at: http://www.ventureforesight.com/
Source: Venture Foresight, LLC
Share: