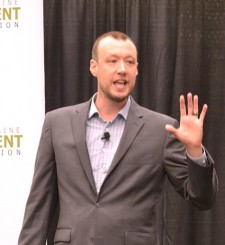 Award-winning author and strategic foresight consultant Simon J. Anderson will share his research and insights on the future of construction and residential construction products
COLUMBUS, January 17, 2019 (Newswire.com) - Futurist Simon J. Anderson will be the keynote speaker this year at Expo '19. The Expo will be held Wednesday, Jan. 30, at the Ohio Expo Center, Kasich Hall, in Columbus. As a foresight consultant and speaker, he his research is focused on the emerging trends and technologies that are driving rapid. The housing industry in Central Ohio has certainly felt the effects of these changes, and Anderson will provide specific actions leaders in the region can take to be more future ready.
His luncheon keynote, titled "Trends Transforming Housing: How to Be Future Ready in a Fast-Changing World," will provide an entertaining and thought-provoking look at the emerging technologies and trends transforming the future of the housing industry. In his presentation, Anderson will bring attention to advancements that could reshape how we build, furnish, and maintain where we live in the future, and offer new approaches to capitalizing on the opportunities and anticipating the challenges that these advancements could create.
According to Anderson, "The housing industry is being transformed by exponential advancements in technology, and every one of our lives will be impacted by the changes these technologies bring. My role as a futurist is to a help industry leaders recognize opportunities created by these advancements and take action not just to survive, but to thrive in our fast-changing future."
In his opening keynote at the 54th Annual International Associated Schools of Construction Conference in St. Paul, MN, last year, Anderson highlighted some of the trends and technologies transforming the industry, including the internet of things and the next generation of smart homes and devices, workforce changes, advancements in renewables, additive manufacturing in housing, and the growing importance of augmented and virtual reality in building, improving, and selling homes. He also shared insights on some of the unexpected impacts of the shift to autonomous, electric, and shared vehicles, and recent advancements in automation.
These trends and technologies will continue to shape the future, and Anderson will discuss their importance, as well as bring attention to important emerging trends in 2019 and beyond during his keynote presentation at Expo '19.
As a futurist, Anderson is focused on helping leaders recognize the opportunities created by rapid change. He has shared his compelling message with clients in a wide variety of industries and locations, including a live webinar for executives on five continents for Tata Communications (headquartered in Mumbai), the International Factoring Association in Hawaii, AT&T, the Eastern Maine Development Corporation, the Michigan Banker's Association, the Florida Educational Facilities Planners Association, the Georgia Telecommunications Association, the Maryland Association of Counties, Fidelity Bank in Massachusetts, and Drucker & Falk in Virginia.
Anderson's insights on emerging technology have been featured in numerous industry publications including Crain's Business News, the Austrian management magazine the Hernsteiner, and the Fall 2018 edition of Executive Connections, a publication of the Executive MBA Council. His upcoming book, tentatively titled "The Future-Ready Professional: How to Create Value In Our Fast-Changing World," is focused on helping individuals compete and win in their careers in a world of increasing automation and a rapidly changing job market.
In addition to Anderson's luncheon keynote, Expo '19 will feature speed networking, educational sessions, and a wide variety of product showcase sessions. To learn more about BIA EXPO '19 or to register to attend or sponsor, please visit the BIA event page.
To learn more about Anderson, his book "Foresight 20/20" (ISBN: 978-1592988945), or his speaking availability, please visit his website at SimonSpeaks.com.
Source: Simon J. Anderson & Venture Foresight
Share: